Om forestillingen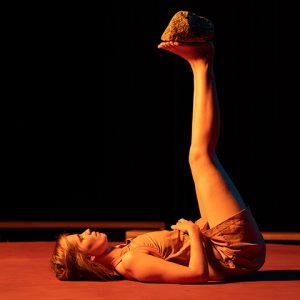 Grenland Friteater inviterer til høstens vakreste teateropplevelse! Espen Hjort og Mees Borgman kommer fra Nederland og spiller Stonework for dere to ganger på torsdag den 24.11 på Friteatret, kl. 13.00 og 19.00..
Bli med til duett mellom en 1,5 milliard år gammel stein fra Hallingskarvet og et menneske. Stonework er en forestilling som har blitt skapt ut av kjærlighet og bekymring for naturen, og som et kunstnerisk bidrag til å forstå de økologiske utfordringene vi befinner oss i. Er det mulig å kjenne forbindelsen til naturen inn i oss ved å inngå i en dialog med en stein?
Espen Hjort er en norsk dramatiker og regissør, som bor og hovedsakelig jobber i Nederland, men også i Norge og Irland. I Norge har han bland annet samarbeidet med en av Norges største teatre – Den Nationale Scene i Bergen. Sammen med Mees Borgman skaper han en rekke forestillinger under navnet Landmarks Collective. Hjort og Borgman skal utvikle neste forestillingen i rekken – Treework – hos oss på residensopphold. Stonework vises på Friteatret i forbindelse med residensen.
Om Espen Hjort:
I see theatre as a space to investigate how to live and how we create the world we live in. I often depart from the encounter with the unknown, the other, that which is radically different from ourselves. The body, landscapes and 'spatial music' are returning points of interest. The relationship between human beings and nature (whatever that might be) will be my focus the coming years.
I grew up in Oslo, Norway. In 2016, I graduated from the directing department at the theatre school of the Amsterdam University of the Arts. The past years I have been working mainly in the Netherlands, but also in Norway and Ireland. My work is produced by Stichting Skorpetind, which is based in Utrecht (NL). From 2016-2020 I was part of the artistic team at Theater Utrecht, and since 2018 I have been collaborating regularly with Het Huis Utrecht, a workspace for experiment and research in the performing arts. In 2022 I was invited to direct a new work at Den Nationale Scene in Bergen (NO), one of the biggest theatres of Norway.
​Together with performance artist Mees Borgman, I create work under the name LANDMARKS.
​I am also a playwright. Zwarte lente ('Black spring', 2020) has been published in Dutch by De Nieuwe Toneelbibliotheek. In 2023, my new play witchmacbethforest will appear on stage and page. And in the meanwhile I am supported by the Dutch Performing Arts Fund in writing Landscape with Radioactive Dogs.
​My work has received generous support from the Dutch Performing Arts Fund, the Norwegian Arts Council, the City of Utrecht, the Prins Bernhard Cultuurfonds, Stichting Melanie, Fentener van Vlissingen Fonds, KF Hein Fonds, the Dioraphte fonds, the LIRA fonds and Dramatikkens Hus.
​
​