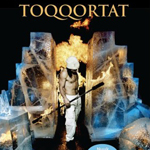 TOQQORTAT will be a grand site-specific performance where rigging, pyrotechnics and circus will meet inuit mask dance, history and mythology.
The theme will be based on 6 scenes:
Darkness, Snow, Water/Ice, Fire, The city and Love.
The fusion of different elements will be something completely unique especially with Greenland as creation and performance location. between 20 and 30 professional performers and technicians from 7 different countries will participate as well as local groups and organizations.
TIME & PLACE
The show will be presented in Nuuk, Greenland on Auugust 30th and 31st 2014. It will be located in the Colonial harbour in central Nuuk. The stage will on water, land and in the air.
CIRCUS EFFECTS NETWORK
I 2010, by initiative of the organisation Circus Arts, the Circus Effects network (CEN) was formed. A network of seven countries and seven organisations with similar forms of expressions and a wish to share and develop the artforms of rigging and pyrotechnics. Thegether we have decided to create TOQQORTAT. A hybrid project of sifferent artforms and influences, a trip and a goal with equal values.
MEMBERS
Greenland National Theatre – Silamut
Greenland National Theatre School
Circus Arts / Burnt Out Punks (Sweden)
The Academy for Untamed Creativity – AFUK (Denmark)
Salpaus Further Education (Finland)
Atempo Circ (Spain)
Vesturport Theatre (Iceland)
Grenland friteater (Norway)
The project is supported by the European Union